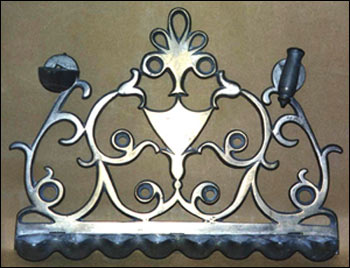 Salonika, Greece, c1850

Brass, cast, tinned; H 22.4 cm, W 30.2 cm, D 6.7 cm
The back plate design of this Hanukkah menorah reveals Italian antecedents. It was used extensively in the Ottoman areas of Greece, such as Corfu where the Italian influence was strong. But the primary use seems to have been in Salonika, which had by far the most extensive Jewish population, reaching 80,000 before the Holocaust. Examples are know with dates as early as the 18th century. The oil holders on this example are tinned on the bottom.