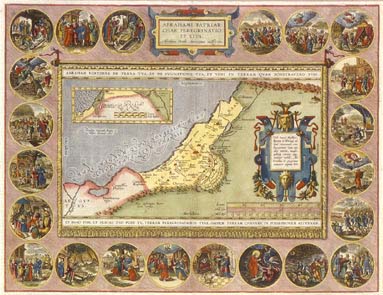 Abraham Ortelius
Abrahami Patriarchae peregrinatio et vita
(The Journey and Life of Abraham the Patriarch)
from Theatrum Orbis Terrarum
Antwerp, c.1590
This map shows the Land of Canaan during the time of the patriarch Abraham, with a separate inset of his journey from Ur. Medallions depicting scenes from Abraham's life surround the entire map. The cities of Sodom and Gomorrah, usually depicted in biblical maps as flaming ruins covered by the Dead Sea, can be seen here before their destruction. The inner frame of the map is designed to resemble a hanging tapestry. This famous map was included in Ortelius's atlas Theatrum Orbis Terrarum.