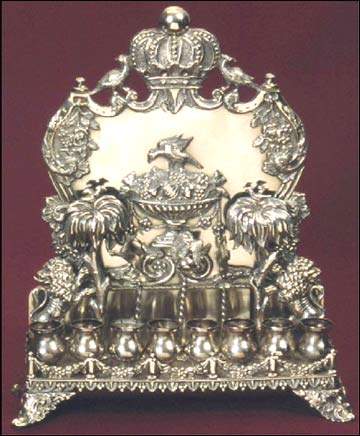 Hanukkah Menorah
Warsaw, Poland, c1890
Silversmith: Antoni Riedel
Medium: silver, casting, repousse, stamping
This general type became the most popular style of Hanukkah menorah in Warsaw in the last half of the 19th century and the first quarter of the 20th. Almost indistinguishable examples were produced by most Warsaw silversmiths, Jews and non-Jews, who created Judaica art from the 1860s through the 1930s.
This is a relatively finely crafted and elaborate example, with cast animals on columns. Ultimately, this style of lamp was produced by stamping, often from brass which was then silver-plated. The master of this piece, Antonio Riedel, was a well-known silversmith who crafted many such lamps, although he is known as well for his skill in making spice boxes and Torah ornaments.
Height: 28 cm, Width: 21 cm