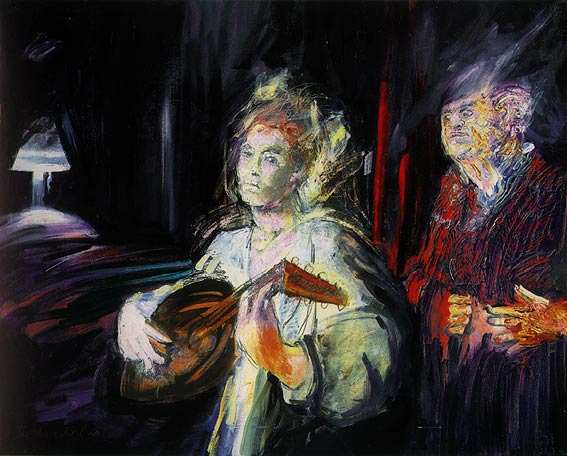 Schwebel
David plays for Saul
81 x 100 in; 1995
1 Samuel 16
14
Now the spirit of YHWH departed from Sha'ul,
and tormenting him was an evil spirit from YHWH
15
Sha'ul's servants said to him:
Now here, an evil spirit of God is tormenting you;
16
pray let our lord speak -- your servants (stand) before you:
let a man be sought,
one-how-knows how to play the lyre,
that it may be, whenerver there is upon you an evil spirit of God,
that he may play (it) with his hand, so that it is well with you.
17
Sha'ul said to his servants:
Pray select for me a man who plays well,
and have him come to me!
18
Then spoke up one of the serving-lads and said:
Here, I have seen a son of Yishai the Betlehemite,
one-who-knows how to play;
a mighty-man of valor,
a man of war,
skilled in words,
a man of (pleasing) form–
and YHWH is with him.
19
So Sha'ul sent messengers to Yishai,
he said:
Pray send me David your son, who is with the flock.
20
Yishai took a donkey (laden with) bread and a skin of wine, and one goat kid,
and sent (them) by the hand of David his son, to Sha'ul.
21
and David came to Sha'ul, and stood before him;
he grew to love him, exceedingly,
and he became his weapons bearer.
22
Sha'ul sent to Yishai, saying:
Pray let David remain-standing (in attendance) before me,
for he has found favor in my eyes.
23
And (so) it was:
whenever there was a spirit of God upon Sha'ul,
David would take up the lyre and play (it) with his hand,
and Sha'ul would have relief, and it would be-well with him;
the evil spirit would depart from him.