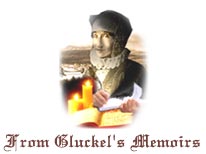 Glückel mourns the death of Haim of Hameln
What shall I write, dear children, of all our bitter grief? I had always stood so high in his eyes, and now I was abandoned with eight of my twelve forlorn children-and one of them, my daughter esther, betrothed! May God have mercy on us and be the Father of my children, for He is the Father of the fatherless! I truly believe I shall never cease from mourning my dear friend.
Sunday, the 24th of Tebet, 5449 [January 16, 1689], he was buried with all honour. The entire community was struck with horror and grief at the sudden blow of it.
With my children gathered around me, I sat upon the ground for the seven days of mourning, and a sad sight it must have been to see me sitting thus with my twelve fatherless children by my side.
We immediately secured our ten men for the daily prayers in the house of mourning, and we engaged scholars to "learn" torah day and night through the whole year-be it not to my reproach! And the children diligently said kaddish for their departed father. And there was not a man or woman who did not come, daily, to comfort the bereaved among us.
And, alas, there was no dearth of tears. We passed the seven days of mourning as you may only too well imagine. "I fed on the bread of tears and drank tears in great measure" . . . "What thing shall I liken to thee, O daughter of Jerusalem?"[1]
I was "cast down from heaven unto the earth."[2] Thirty years I had enjoyed my beloved husband and he had bestowed on me all that a true wife could want. And he had, as I might say, thought of me after his death, so I could lift my head in honour. But what does this all avail me? The decrees of Heaven cannot be changed.
Still, dear children, our good friend died the death of the righteous. He lay but four days on his bed and kept his mind undimmed until he breathed his soul away. "Let my last end be like his,"[3] and may his merits stand us in our need! He had the good fortune to leave this sinful world in honours and riches, and lived to see no unhappiness in his children. For "the righteous is taken away from the evil to come."[4]
But when his soul took wing, there flew with it all my glory, wealth and honor. And I remained behind with my single and married children, steeped in care and woe which every day grew greater. "My friends and my kinsmen stand aloof from my sore."[5] Aye, my sins had brought me to this pass; and I shall never forget him as long as I live, for he lies buried in my heart.
My dear mother and her children sought to comfort me, but it was as oil poured upon fire, and my grief grew only the worse for it. Visits of consolation kept on for two or three weeks; and then everyone forgot all about me and the very people we had helped most began to repay us with evil, as it the way of the world. At least I fancied so-for a widow, God forgive me! Who has of a sudden lost her all is quick to see and take offence and often unjustly.
The days, my beloved children, that the dear friend of my heart lay dead before me were not as bad as those that followed. Then it was my grief deepened hourly. But in His mercy the great and good God at length brought me patience so that I have taken care of my fatherless children as far as a weak woman can, bowed with affliction and woe.


[1] Adapted from Ps. 80:5; Lam. 2:12. [back]
[2] Lam. 2:1. [back]
[3] Num. 23:10. [back]
[4] Is. 57:1. [back]
[5] Based on Ps. 38:11. [Back]

Glückel. The Memoirs of Glückel of Hameln. Marvin Lowenthal, trans. Copyright © 1977 by Schocken Books (New York), pp. 152-154. Reprinted by permission of Schocken Books.